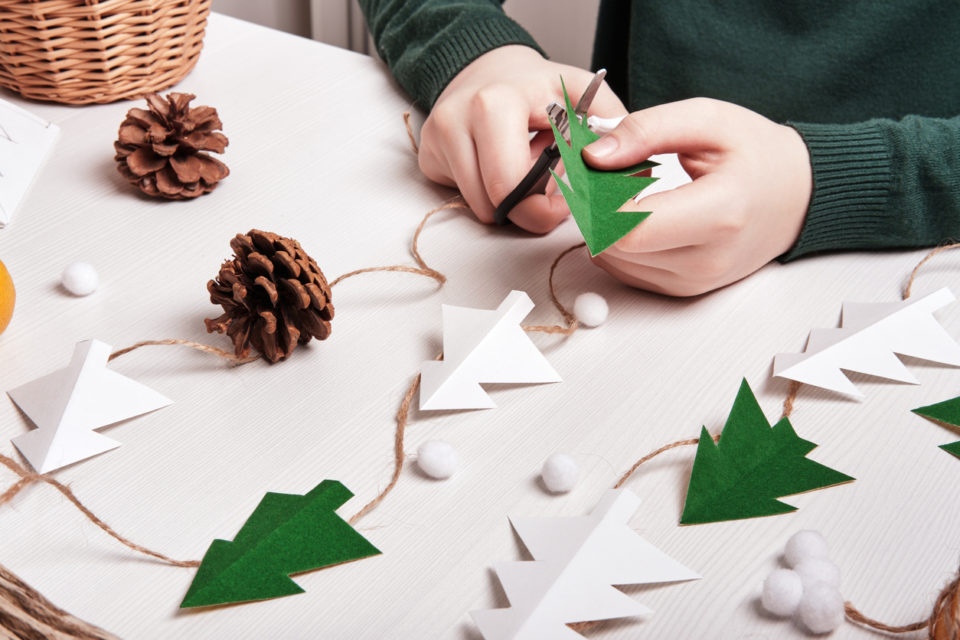 Some people have an attic full of Christmas décor and they start unpacking it before they've even had their first leftover turkey sandwich. Their tree is up by Friday afternoon. Their lights are strung by sundown. Or, their entire lawn looks like a winter wonderland before the kids head back to school. Other's take a bit longer to get in the Christmas spirit, and that's okay. While it can definitely add to the holiday cheer, you don't need a month and a whole attic of decorations to make your home warm and festive by Christmas day.  Whether you are starting from scratch or looking for some new ideas to add to your current decorations, you'll love these last minute décor ideas.
Wall Tree Alternative
It's a week before Christmas and you don't have a tree yet. You could rush out and buy one, drag it inside, and spend an evening decorating it with all the ornaments, lights, and baubles. Or, you could use this duct tape wall tree idea. It actually looks pretty cute, and instead of using gray or black tape, you can run to your favorite craft store and grab a sparkling silver, green, gold, and red roll to layer together. Criss-cross it with a string of LED lights and the results will be just as festive as a fresh tree. As a bonus, if you have pets, they won't have any ornament to knock on the floor.
Wrapping Paper Table Runner
Do you have any left over wrapping paper? If the answer is yes, you are in luck.  You can jolly up your dinning area with a wrapping paper table runner.  First, measure the length of your dinning table and cut a ream of your favorite gift wrap that's about two feet longer. You'll use the additional length to secure the wrapping paper under the table with tape on either end.
You might also like: Last Minute Christmas Décor Ideas
Ornament Filled Baskets and Glassware
If you opted for a wall tree instead of a traditional one you can still get some use out of your ornaments. Grab a few baskets, large glass ware, translucent vases or any spare container around the house that's suited for display. Fill them up with baubles and ornaments and place them through-out your home. For some added sparkle you can line up a few of your ornament filled glassware items on a mantle wrap them in a string of lights.