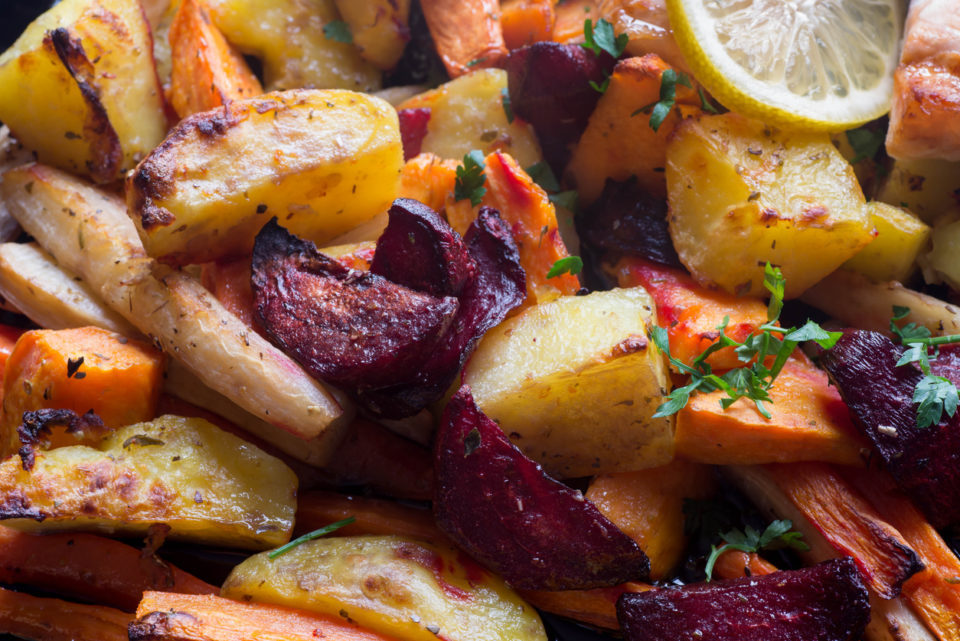 Welcome to the hustle and bustle of another week! Between work, school, social lives, and chores, there's not much time left for anything else. Do yourself (and your family) a favor by making these super simple sheet pan meals this week, and everyone can have some time to relax. The best part? There's only one dish to clean! Let's take a look at our tasty options.
There's something so delicious about the simplicity of roasted chicken with veggies. Even your pickiest eaters will love this! Cover a baking sheet with aluminum foil, and place your veggies and chicken breasts on top. Sprinkle garlic, rosemary, paprika, salt, and pepper over everything, and finish it off with a drizzle of olive oil. Bake at 400°F for 40 minutes, and once the chicken reaches 165°F, pull it out and serve with your favorite sauces.
Salmon is one of the most simple and delicious proteins you can pick for dinner. But when paired with crunchy roasted potatoes and tender asparagus, you know it's going to be incredible. To make this meal, all you have to do is add your potatoes to a baking sheet lined with parchment paper. Drizzle them with olive oil and add salt, pepper, and thyme. Let those bake at 400˚F for 20 minutes, and then add your salmon brushed with the marinade and asparagus to the sheet. Top your salmon once more with thyme and lemon slices, and then bake for another 14 minutes.
You might also like: Turn Up Your Trade-In Value With These Tips
Steak and veggies is a classic dinner. This fun, colorful meal is as easy to make as it is gorgeous to look at. Start by putting your veggies — cherry tomatoes, carrots, yellow bell pepper, red onion, and asparagus — on your baking sheet. Spread them out a bit so that they roast well, and sprinkle with salt and pepper. Drizzle oil over the veggies, and give them a good mix. Top with thyme and garlic cloves for added flavor. Bake them for 15 minutes at 400°F and then remove, moving the veggies to either side of the tray. Add the sirloin steak to the middle and sprinkle with salt and pepper, and then add garlic and thyme. Cook for 10-15 more minutes. After you let the steak rest for 10 minutes, you can dig in to this deliciousness.
You owe it to yourself to take a break. Let these meals do all the work for you tonight!