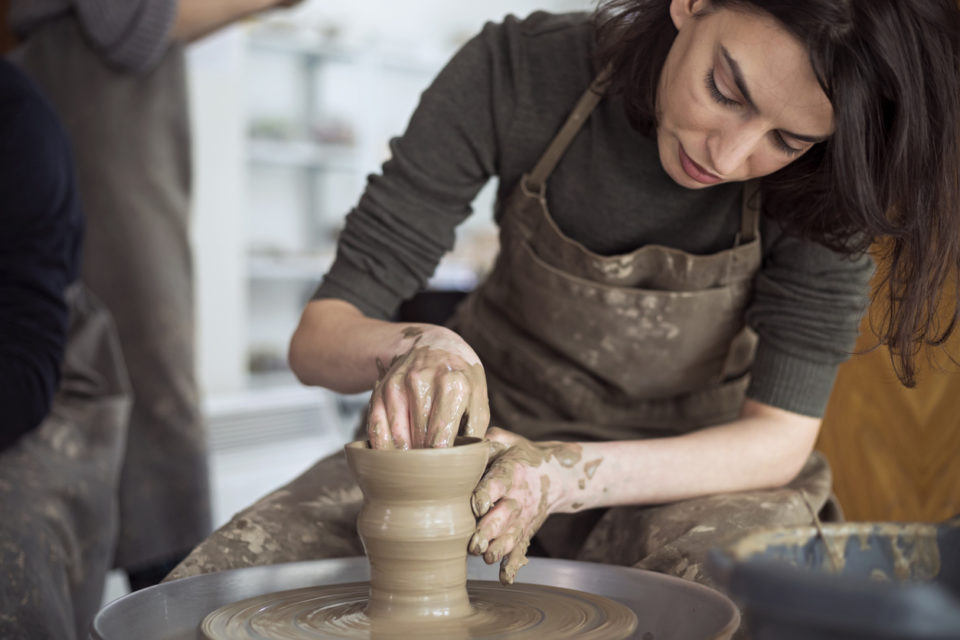 Pottery has a rich history that dates back thousands of years. If you've ever visited a museum, you've probably seen some of the pottery from ancient civilizations. The pieces often provide insight into their way of life as the pieces they made were mostly for practical use. Today, pottery is enjoyed as both a form of artistic expression and a practical craft, with many potters creating unique and functional pieces for everyday use. The Pink Pig Pottery Studio gives people a chance to try their hand at this ancient craft. It's a unique way to spend time with family, or a fun way to express your creative side. Book an event or sign up for a class to give it a go. Who knows, perhaps you'll be a natural, and your work will be worthy of its own art exhibit in the Rose Center art museum.
Pink Pig Pottery Studio
The Pink Pig Pottery Studio located on West Main Street in Morristown, TN, offers residents pottery classes, custom pottery, and unique gift items. If you're shopping for a birthday, graduation, or a take a look at the Pink Pig Pottery Studio's unique catalog of pottery classes. You'll find pottery painting events where your gift recipient can paint tumblers, mugs, placards, Christmas trees and so much more. You'll also find a list of hands-on pottery-throwing classes, where you can learn to make your own uniquely beautiful pottery. Classes can be booked for private events such as birthday parties or you can join the experts for one-on-one classes or small groups.
Wheel Throwing
Okay, there's a small chance you're a pottery genius and you'll make something gorgeously unique your first time at a Pink Pig Pottery Studio event. More than likely though, it'll just be something unique, but that's okay. If you try out making pottery and you find that you absolutely love the process and want to become adept at it, sign up for a wheel throwing class.  Pottery throwing requires skill and practice to master. Potters need to manipulate the clay on the wheel using their hands and tools to create precise shapes and textures. The process is both meditative and challenging, making it a popular hobby for many people around the world.
You might also like: Get Your Car In Shape With These Maintenance Tips
Making Pottery for Your Well-Being
Pottery throwing is an excellent way to relieve stress and channel creative energy. The process of working with clay on a potter's wheel can be therapeutic, allowing individuals to unwind and focus on the present moment. The tactile nature of the clay and the rhythmic motion of the wheel can be calming, helping to reduce anxiety and promote relaxation.
In addition to its stress-relieving benefits, pottery throwing is also a great way to express creativity. Potters can experiment with different shapes, sizes, and textures, creating unique pieces that reflect their personal style and artistic vision. The process of turning a lump of clay into a functional work of art can be incredibly rewarding, providing a sense of accomplishment and fulfillment.
Overall, pottery throwing offers a range of benefits for both mental and emotional well-being. Whether you're a beginner or an experienced potter, taking the time to work with clay on a potter's wheel can be a meaningful and enjoyable experience. So, book a class or an event at Pink Pig Pottery Studio and start creating.
Disclaimer: The stock image is being used for illustrative purposes only, and it is not a direct representation of the business, recipe, or activity listed. Any person depicted in the stock image is a model.