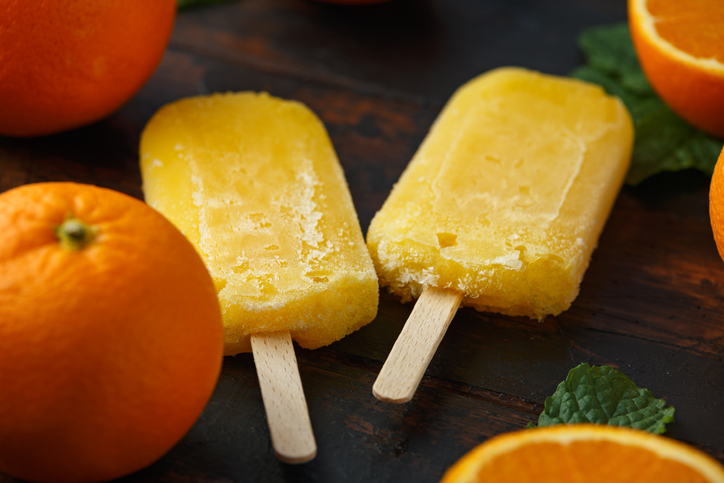 Summertime is a wonderful time to take it slow and enjoy the beauty around you. Many people opt to spend their days outside at the park, lake, or even for just a stroll around their neighborhood. Summer is the time for longs days by the pool and nights catching fireflies or watching fireworks. It is also the season to indulge in cool, sweet treats. There are plenty of ice cream, sorbet, and popsicle options to try. If, however, you want to enjoy a nostalgic frozen treat that reminds you of summers past, then make this easy orange cream pop recipe from a Taste of Home. Reminiscent of the creamsicles of your youth, you will enjoy these homemade orange cream pops throughout the summer.
Ingredients
These pops are relatively easy to make, and does not call for that many ingredients. Make a quick stop at your local grocery store for the items needed to make these frozen treats, and you and your friends will soon be able to indulge in these pops. For these orange cream pops, you will need:
1 3-oz. package of orange gelatin
1 cup of boiling water
1 cup of vanilla yogurt
1/2 cup of 2% milk
1/2 teaspoon of vanilla extract
You will also need something to freeze the pops in. You can simply use paper cups and some wooden popsicle sticks. If you intend to make these pops or other popsicle recipes throughout the summer, then you may want to invest in some freezer popsicle molds. This particular recipe yields ten pops.
You might also like: Easy Grilled Garlic Shrimp Recipe For Your Next Cookout
Directions
Thankfully, there is not a lot of 'cooking' involved in this recipe. If you feel that you are not a 'Suzy Homemaker,' then do not worry. You can definitely tackle this orange cream pop recipe. You just need to be able to boil some water. That is the extent of cooking that is done. Once you bring some water to a boil, you will pour this over the orange gelatin powder in a bowl as you mix. Allow the mixture to get to room temperature before you mix in the other ingredients. Once it has reached room temperature, you will then combine  the yogurt, milk and vanilla to the orange gelatin mixture. Stir until everything is well combined.
Next, you will pour the mixture into the molds. Each individual mold should have about one-fourth cup of the liquid mixture. Place the top of the molds or the wooden popsicle sticks with some aluminum foil onto the molds or paper cups. Place the molds in the freezer. You need to allow the pops to freeze until they have become firm enough to hold their shape. That is it! You have a delicious treat for you and nine of your friends or enough pops for you and a few of your friends to have more than one.
Disclaimer: The stock image is being used for illustrative purposes only, and it is not a direct representation of the business, recipe, or activity listed. Any person depicted in the stock image is a model.