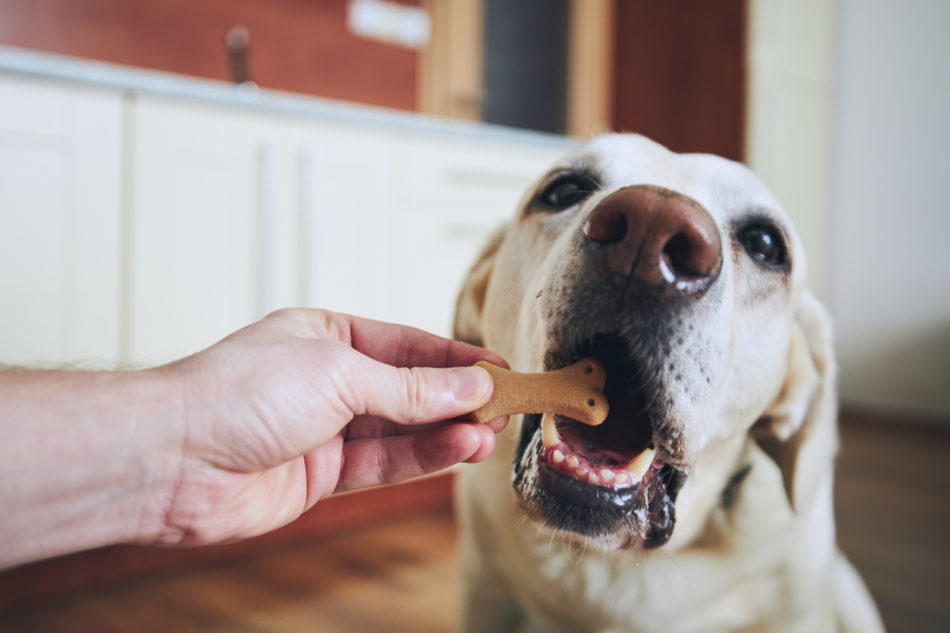 Does your dog love peanut butter and pumpkin? If so, he's going to devour these homemade dog treats. Those are the main ingredients in this recipe, and your dog will gobble them up in no time. Whether you need some training treats or want your pup to enjoy a snack, whip up a batch today.
Ingredients for Homemade Dog Treats
You might think that homemade dog treats are hard to make, but this recipe is a breeze. You only need five ingredients to make something Fido will love. This recipe calls for:
1 cup of pumpkin puree.
2 eggs.
1/3 cup of natural peanut butter without sugar substitutes or Xylitol.
2 cups of all-purpose or whole wheat flour.
1/2 cup of cinnamon or pumpkin pie spice without nutmeg.
Making the Dog Treats
These treats are baked in the oven, so start by preheating to 350 degrees Fahrenheit. Then use parchment paper to line a baking sheet.
Take out a large bowl and add the peanut butter, eggs, and pumpkin puree. Stir the ingredients together until everything is combined into a dough.
Add some flour to a flat surface and put the dough on top. Roll it, so it's a quarter of an inch. If the dough sticks while rolling, add a bit more flour.
Cut the dough into dog-friendly shapes, such as bones. There isn't a size limit to how small or big to cut the treats. It's a matter of your dog's preference. After cutting the dough into shapes, transfer the treats to the baking sheet.
Pop the treats in the oven for 20-40 minutes. They'll be done in 20 minutes, but you can cook them for up to 40 minutes if Fido enjoys a little extra crunch. They will also get a bit crunchier while they cool. That's something to keep in mind when deciding when to take out the treats.
Take them out of the oven and place them on a cooling rack. Make sure they are nice and cool before you give one to your furry friend.
You might also like: Experience Disc Golf Fun In Morristown, TN
Storing the Dog Treats
You can store them for a full month in the refrigerator as long as they're in an airtight container. Do you want them to last even longer? Put the container in the freezer, where the treats will last for up to six months. Of course, expect to get a dirty look or two from your pup if you do that. Your dog will not want to wait six months to finish the batch.
Fido will dig into these homemade treats. Your pup will love them so much that you should keep some extra ingredients on hand so you can whip them up from time to time. It can become a weekend tradition for you and your pup.
Disclaimer: The stock image is being used for illustrative purposes only, and it is not a direct representation of the business, recipe, or activity listed. Any person depicted in the stock image is a model.